justonemoreanimation
Sign up HERE for the JOMA Juice newsletter to stay on top of all auction template creations and sale.
Add your photos from photobucket.com to your eBay listing template.
Why pay eBay money to display more than 12 photos when you can list them all in your listing template for FREE.. Since more people use photobucket.com, this tutorial will show you how to insert your pictures into your listing template using your pictures from photobucket. I do recommend that you upload your best photos to your listing through eBay, up to the max free which is currently 12, as your uploaded listing photos is what will pull traffic in to your listing.
Let's Get Started
First let's sign into photobucket.com
Please note that I am creating this tutorial from my computer, not the photobucket app so there may be some differences if you are using the photobucket app. If you are completely new to HTML templates I recommend you read the Template Tutorial first. Link is at the top of this page.
1.) Once you are signed into your photobucket account, upload your photos. You can click on any example photo below for a larger view that will open in a new window.
2.) Use the drop down box, shown above, to pick the folder in your photobucket account, where you want your photos to be saved. If you are new to photobucket when you open the menu box your first choice given is to create a new folder. Once you have picked your photobucket folder then click the blue button that says "choose photos & videos" to locate your picture on your computer, ipad, phone, ect. Once you have choose your photos, you can choose more than 1 photo at a time, they will begin to upload to your photobucket folder.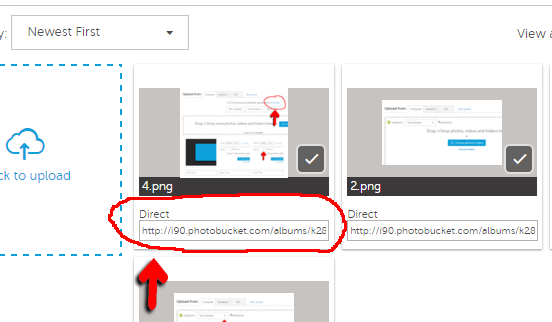 3.) Once your photos have been uploaded, you can insert your pictures into your template on eBay 1 of 2 ways. The newest and easiest way is to click on your picture, this will show your picture similar to the example below.
4.) Right click on your photo and click on "copy image". Now lets head over to your eBay listing. Once you get to the description part of the listing where your template should already be, make sure you are in the standar mode. The example below shows the description box in the html mode with the template code in the description box. Use the tabs shown circled in red to go to standard view (where you will see the actual template).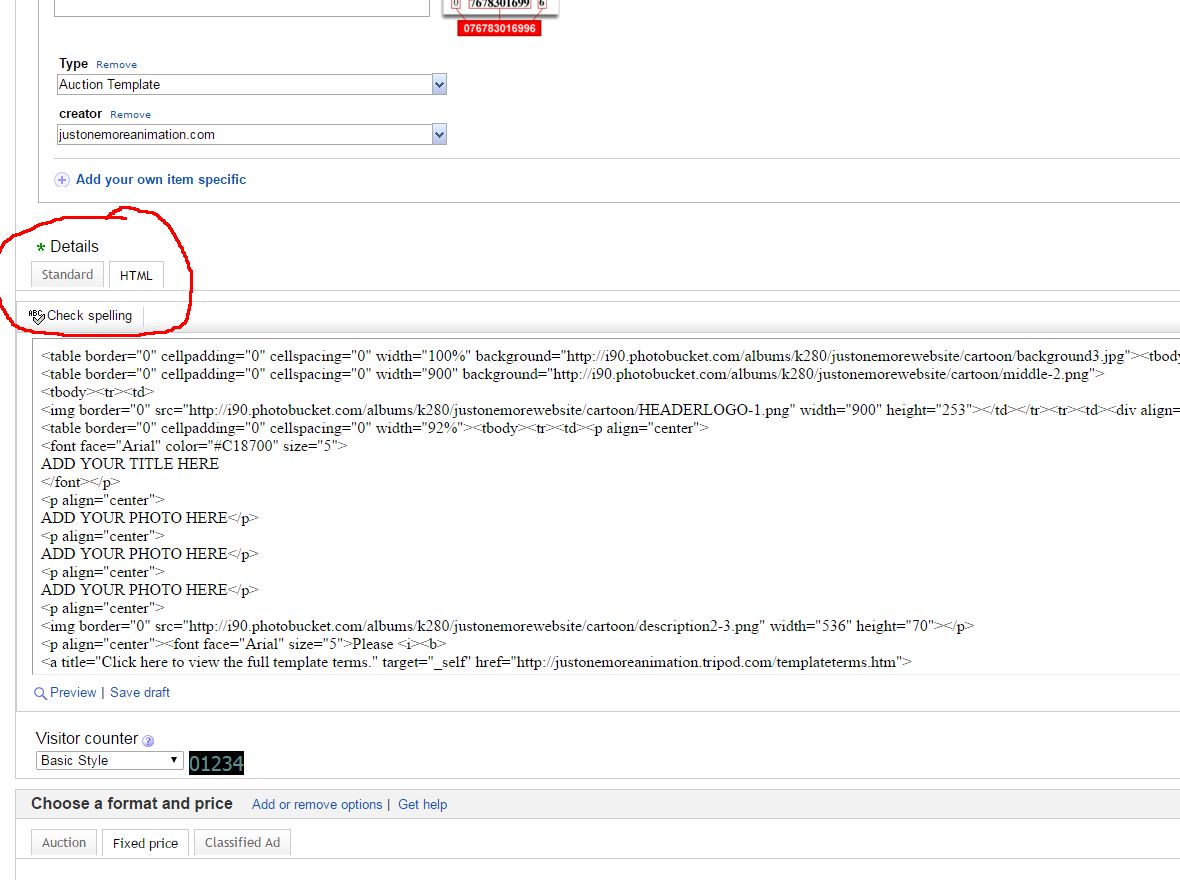 5.) In the image below you can see the template is now visible in the standard view.
6.) Scroll to the top of the template, right after "ADD YOUR TITLE HERE" you will see where you can add your pictures. Yes, you can add them anywhere but for this I will add them where it says "ADD YOUR PHOTO HERE".
7.) After you have copied your picture from photobucket, in step 4 above, delete the words in your template, "ADD YOUR PHOTO HERE". Once the words are delete place your curser back in the same space where the words where, right click and click on paste. You should now see your photo, example shown in photo below.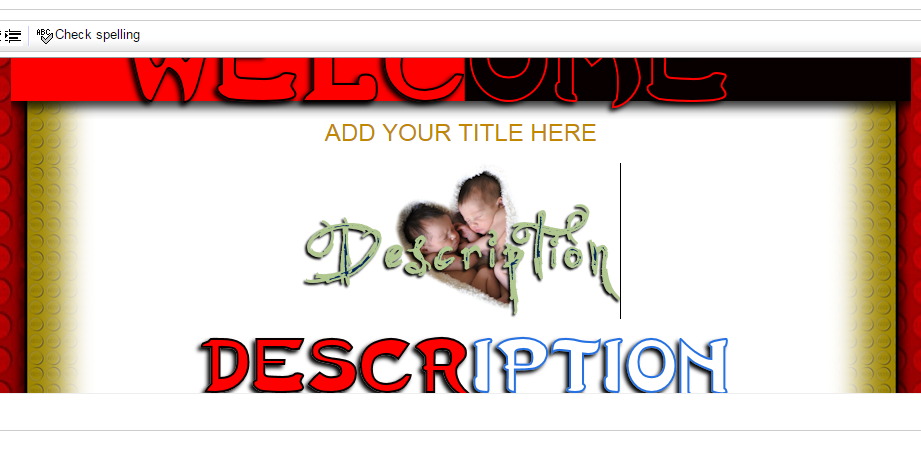 8.) If your pictures are larger than 800 pixels wide they will distort most templates from justonemoreanimation. Some templates are created differently and will auto-adjust to the size for you but most of the templates from justonemoreanimation are created at a fixed width to prevent your listings to be to large for smaller device viewing.
9.) You can edit your pictures in photobucket to resize them if need be. In the Helpful links on the right under the category links is a link to another tutorial on how to edit the html to make your pictures smaller and clickable for full size view. This is another way to make your photos smaller for faster page load time yet still give your viewers the ability to see your photos full size.
---
---