justonemoreanimation
100% HTML eBay Templates
Update: 7/24/2017
I am slowly getting new templates created and available in the eBay store. I have had numberous emails of so many people effected from this photobucket change. Not just from my templates but from others and their own product photos as well.
I wanted to get a free template made and available here for you to use. I though that since school was starting soon I would whip up a nice back-to-school ebay template for everyone to use.
All graphics are hosted right here on this website, no more photobucket, but you will always have the option to purchase the template graphics to host yourself if you like. For more info just go to the template listing by clicking on the preview below.
Here is a view of the FREE template you can get right here today. You can click the template to view it on eBay.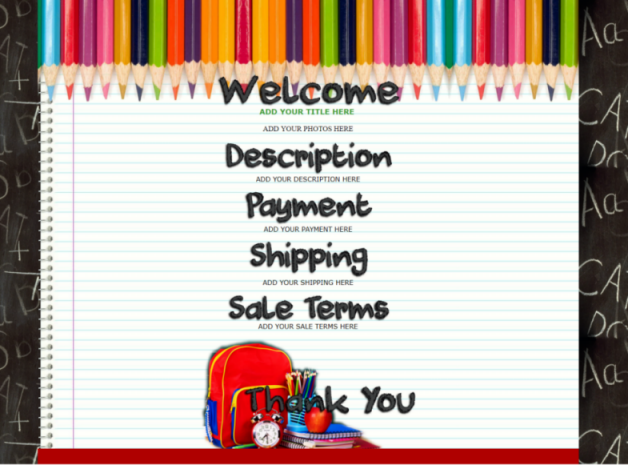 You can click on the prefered file for the template HTML. I recommend using the word-pad document below if you can as it will be color highlighted for you whereas the note-pad document does not support color highlighting.
6/30/2017
justonemoreanimation's templates are unuseable due to photobucket.com
I have paid them faithfully for 10 years to maintain constant graphics for all templates. Photobucket has changed their terms and raised their prices. I guess since I was on an older package they took it upon themselves to expire my account so I have to now purchase their Pro 500 package which is $400.00 and with NO more montly payments. So, I have to pay photobucket.com $400.00 to get all my images back up and running.
Needless to say I will NO LONGER use photobucket.com
Unfortunately this has created ALL of my templates useless and no longer working.
Please know that I truly understand the frustration this has caused as well as loss in sales for so many people. I do understand because I have also lost my much loved template business that I worked hard for 10 years to build and had every intention of continuing for another 10 years.
Rest assured that I will not let this beat me. I am currently working hard to try and remake as many of the templates as I can.
All templates will also now be completely mobile friendly and 100% compliant with eBay's newest changes. So, the templates will have a slightly different look to them.
I am also giving everyone the option to purchase the graphics to every template from justonemoreanimation. This will allow you to host the images yourself and have complete control of your templates.
Hopefully this will never happen again.
Also, all new templates created will be hosted right here in this website so purchasing the template graphics is just an option for you. Just please understand that I can not control what the future holds.
I would like to say to all you ebay sellers out there with so many listings down because of this, I really really and so very sorry for this hell of a mess. I just woke up to it one day as you did and I truly understand your frustration and give my deepest apology as I wish I knew how to have prevented this from happening..
This website will be undergoing a whole lot of changing so please come back soon. I will offer more FREE templates once I get them created.
Below are some NEW templates that are available in the eBay store today.